I'm thinking that I could try to do some perler fridge magnets, and those alphabet magnets seem like a good idea!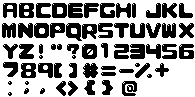 I had this font of sort laying around and I'm hoping they make a good magnet set? But maybe I should change the colors?
The thing is they'd be about the size of the palm of my hand, which is small, but maybe not a and fridge magnet alphabet?

I'm also thinking of doing stuff like the beer bear (not animated of course) as a beer mat, and stuff like pixel hearts, skulls, and maybe food in fridge magnets?



I'll probably put them up on Etsy, but I'm also wondering if I should accept commissions? Oh well, I guess I'd better see if anybody would actually buy them first! :P