Scott Pilgrim Pixel Fanart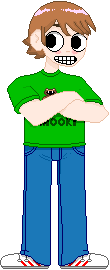 I finished the Scott Pilgrim fanart... I hope he looks OK, he's my first full body one!
I just realized I stopped posting here without saying anything... While I don't think LJ is dead, I do know that almost everybody I know follows…

My computer is back from the dead! Sorry for the absence!

I'm about to spice things up!